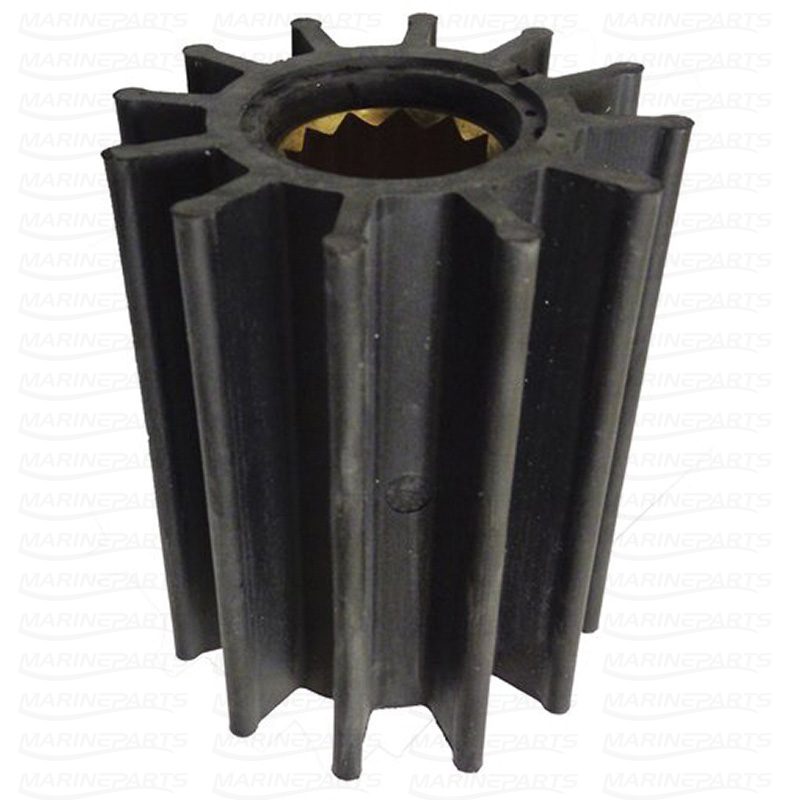 Product details
Impeller REC3887761

Features:

• Diameter: 65,7 mm
• Width: 80 mm
• Shaft diameter: 25 mm
• Rubbertype: Neoprene
• Blades: 12
• Spline drive

For Volvo Penta models:

TAMD63L-A, TAMD63P-A

D6-280A-E, D6-310A-E, D6-310D-E, D6-330A-E, D6-330D-E, D6-370A-E, D6-370D-E, D6-400A-E,

D6-300A-F, D6-300D-F, D6-300I-F, D6-330A-F, D6-330D-F, D6-330I-F, D6-370A-F, D6-370D-F, D6-370I-F, D6-400A-F, D6-435D-F, D6-435I-F, D6-435I-F D6-435D-E

D6-280A-A, D6-280A-B, D6-280A-C, D6-280A-D, D6-280A-E, D6-280I-A, D6-280I-B, D6-280I-C, D6-280I-D, D6-280I-E, D6-310A-A, D6-310A-B, D6-310A-C, D6-310A-D, D6-310A-E, D6-310D-B, D6-310D-C, D6-310D-D, D6-310D-E, D6-310I-A, D6-310I-B, D6-310I-C, D6-310I-D, D6-310I-E, D6-330A-B, D6-330A-C, D6-330A-D, D6-330A-E, D6-330D-B, D6-330D-C, D6-330D-D, D6-330D-E, D6-330I-B, D6-330I-C, D6-330I-D, D6-330I-E, D6-350A-A, D6-350A-B, D6-370A-B, D6-370A-C, D6-370A-D, D6-370A-E, D6-370D-A, D6-370D-B, D6-370D-C, D6-370D-D, D6-370D-E, D6-370I-A, D6-370I-B, D6-370I-C, D6-370I-D, D6-370I-E, D6-400A-E, D6-435D-A, D6-435D-C, D6-435D-D, D6-435D-E, D6-435I-A, D6-435I-C, D6-435I-D, D6-435I-E

For Yanmar models:

6LY2-STE, 6LYA-UTE/-STE
Show more..
Show less
Manufacturer RecMar ®
Partnr. REC3887761

Availability: Immediately
The product is in stock for immediate delivery
10+
Marineparts (Finland)
Secure checkout with
This is an aftermarket product
Volvo Penta - Diesel
Modeltype
Year
TAMD63L-A
1994
TAMD63L-A
1995
TAMD63L-A
1996
TAMD63L-A
1997
TAMD63L-A
1998
TAMD63L-A
1999
TAMD63L-A
2000
TAMD63L-A
2001
TAMD63L-A
2002
TAMD63L-A
2003
TAMD63L-A
2004
TAMD63L-A
2005
TAMD63P-A
1994
TAMD63P-A
1995
TAMD63P-A
1996
TAMD63P-A
1997
TAMD63P-A
1998
TAMD63P-A
1999
TAMD63P-A
2000
TAMD63P-A
2001
TAMD63P-A
2002
TAMD63P-A
2003
TAMD63P-A
2004
TAMD63P-A
2005
Yanmar
Modeltype
Year
6LY2-STE
All
6LYA-UTE
All
This product replaces following manufacturer's part nrThe references that are listed here are trademarks that apply to the respective trademark owners. The references are used only for a reference purpose. Our product is compatible with these reference numbers. Please note that our product is an aftermarket product (non-OEM).
Volvo Penta: 876771 3887761 21951358
Johnson: JOH09-821B
Yanmar: 119574-42550 119574-42552
CEF: CEF500162G
Alternatives